Things to See & Do
Cruise with us and enjoy the beauty of the Bay aboard "Fisherman's" our custom built in 2001 46' Markley charter boat USCG certified for 34 passengers. Take a tour of our waterways or just enjoy a relaxing sunset cruise.
email
Related Links
---
Here in the Kent Narrows area, another great boating season has begun. R&R Charters and Sail School offers sailing lessons, classroom lessons, captained charters, and bareboat charters aboard our three sailboats docked at Mear's Point Marina. R&R is accredited by the American Sailing Association.

We encourage our boating students to take advantage of all the "local color" Kent Narrows has to offer......hotels, restaurants, bands n' bars, crabs and nightlife.
You can view our website at www.randrchartersandsailschool.net.
---
Leave from our dock and we'll find your fish in the bay or rivers. Just bring the Anglers and we will supply the fleet of boats, bait, tackle and license.
email
Related Links
---

Address: 9700 Romancoke Rd, Stevensville, MD 21666
Contact Phone: QAC Parks and Recreation 410-758-0835
Hours: Dawn to dusk.
Directions: Rt. 50/301 to South Rt. 8 (Romancoke Rd), Romancoke Pier is at the end of the road.
Pets: Not allowed
Fee: $3.00 per person
Description: The 600 foot lighted fishing pier provides access to the Eastern Bay. Permanent restrooms are available April through November for the convenience of patrons. Seasonal crabbing is popular at this facility.
---
Address: 1112 Romancoke Rd, Stevensville, MD 21666
Contact Phone: QAC Parks and Recreation 410-758-0835
Hours: Picnic area is open dawn to dusk, pier and ramp are open 24 hours.
Directions: Rt. 50/301 to South Rt. 8, turn right to Marine Academy Drive
Fee: $4.00 per car parking fee for access to pier, ramp and picnic area.
Description: Highlighting this facility are the 650 foot lighted fishing pier and the 25 – foot wide boat ramp. The ramp and pier are open 24 hours a day year round giving the avid fisherman ample opportunity to catch the tide, fish at night, first light or all day long. The facility has restrooms and a picnic area with grills for the convenience of patrons. Nestled deep in a pine forest, this one mile wood-chipped trail provides an ideal location for spotting wildlife and plant species. The trail wanders through canopied woods and proceeds down to the Chesapeake Bay, where park patrons can observe breathtaking sunsets. Visitors may take their dogs swimming at Matapeake Beach as long as the pet is under voice command control.
---
Kent Narrows Fishing Pier
Fishing is available on the North side of the Kent Narrows Bridge. There are two piers, one located on the East side and the other on the West side of the Narrows Bridge.
---
| | |
| --- | --- |
| Brief Description: | Located along one of the major routes for traveling to the Eastern Shore, the Chesapeake Exploration Center (CEC) helps visitors discover the many sites to visit in the region. As a Gateways regional information center, CEC staff can assist visitors with directions, information and visitor services for other Gateways, as well as other sites of interest. The CEC is also developing interpretive exhibits and programs to introduce visitors to the Bay, currently scheduled for opening in Fall 2001. |
| Operating Hours: | The facility is open seven days a week, year-round (Christmas, New Year's and Easter excepted) and is staffed from 8:30 am - 4:30 pm Monday through Friday, and 9:00 am to 4:00 pm on weekends. |
| Fees: | The Exploration Center is free to the public. |
Directions:
The Center is located at Kent Narrows, six miles east of where the Bay Bridge connects with Kent Island. The Center is a quarter mile north of U.S. Route 50, accessed just before the Kent Narrows Bridge. Just follow the directional signage from Route 50.
Address:
Chesapeake Exploration Center
425 Piney Narrows Road
Chester, MD 21619
Phone:
(410) 604-2100
Related Links
---
Airplane Tours
Take an exciting Tour of Kent Island from a different point of view.
Rates: Discovery Tour $75.00 / per tour
(1-3 people per tour)
Approximately (30-45 minute tour)

Location:
Bay Bridge Airport - W29
2 02 Airport Rd.
Stevensville, MD
21666
Phone (410) 604-6288
Toll Free (877) 422-7247
Website: http://www.capitolairservices.com
---
Introductory Flight
Experience flight like the birds, feel the wind in your face, as you fly low and slow over the beautiful waters of the Chesapeake Bay.
Rates: 10 minutes $45.00
30 minutes $95.00
(One passenger per flight)
*Call For Reservations
Location:
Main Street
Grasonville, MD 21638
(410) 490-0990 or (410) 320-7593
---
Champagne Balloon Flights
Hot Air Ballooning tours are fun and the scenery is fantastic! The hot air balloon is inflated as the sun's first rays lighten the sky. Lift off is gentle. The hot air balloon flight is serene, peaceful and magic. The views and scenery below are spectacular!
Phone:(410) 820-2074 or (800) 310-2074
---
Hang Gliding
What an adventurous way to see the "Eastern Shore"
Two place (Tandem) flight makes it safe and easy for the new comer to get into the air within minutes of arriving for the first lesson. Although most solo pilots land on their feet, while flying tandem, wheels are used to make safe and easy landings. Due to the less cumbersome landing procedure, wheels also allow the student to be on the controls for a longer period each flight.
Location:
Highland Aerosports
2 4038 Race Track Rd.
Ridgely, MD 21660
Phone (410) 634-2700
Website: http://www.aerosports.net/
---
Crabbing, fishing and cruising around the Eastern Bay - boat rentals.
Available - 14 ' fiberglass skiffs with small outboards
*Call for availability
Location:
Crab Alley Marina
1820 Crab Alley Drive
Chester, MD 21619
Phone: (410) 643-7339
---
Crabbing, fishing and cruising around the Wye River - boat rentals.
Website: http://Schnaitmansboat.com
Location:
Schnaitman's Boat Rentals
12498 Wye Landing Lane
Wye Mills, MD 21679
Phone: (410) 827-7663
---
Find an impressive collection of 65 designer and name brand outlet stores AT 25% TO 65% EVERY DAY. Featuring: Adidas, Banana Republic, Brooks Brothers, Calvin Klein, Coach, Gucci, J.Crew, Juicy Couture, Kate Spade New York, Michael Kors, Nike Polo Ralph Lauren, Talbots, Under Armour and more.
Regular Hours
Monday - Saturday
10:00 a.m. - 8:00 p.m.
Sunday
11:00 a.m. - 7:00 p.m.
See website for holiday and special sale hours.
Location:
441 Outlet Center Drive
Queenstown, MD 21658
Phone (410) 827-8699
---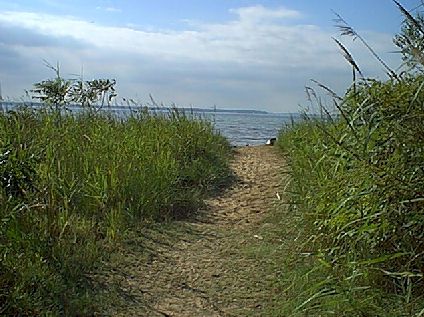 The 279-acre park currently offers a one mile nature trail, three mile walking trail, observation blinds, sitting areas, foot bridges, a gazebo, a parking area and boardwalk along beach with view of the Chesapeake Bay Bridge. Five unique habitats include wildflower meadows, wetlands, tidal ponds, woodlands and sandy beaches. Boardwalk along beach with view of the Chesapeake Bay Bridge. Two observation blinds overlook tidal ponds.
The spectacular views of the Chesapeake Bay Bridge and the open waters of the Bay along the park's 4,000 feet of shoreline draw many visitors every year.
---
In September 2001, Queen Anne's County opened this nice little trail running across Kent Island. The Cross Island Trail starts in the Terrapin Nature Area (located directly across the bay from Sandy Point Beach) and runs all the way to Kent Narrows.
This wide, paved trail offers some nice views of the Chesapeake Bay and the surrounding forests of Kent Island. The county has also constructed a couple of nice bridges along the trail which offer great views of the local waterways.
In addition to bicycling, there are also over 2 miles of hiking trails in the Terrapin Nature Area, located at the western end of the bike trail. After your ride, you can enjoy one of the many restaurant located near the path.
Overview Map of Cross Island Trail
Directions:
After crossing over the Bay Bridge ($2.50 toll eastbound only), take the first exit, Route 8 Stevensville.
At the top of the exit ramp, make a left onto Route 8 at the light, crossing over Route 50.
At the next traffic light (Skipjack Pkwy), make a left into Chesapeake Bay Business Park.
The road will come to a tee. Make a left here and follow the circle road around the Business park to the Terrapin Nature Area.
As an alternative, you can also follow Route 50 across the island and exit at Kent Narrows. There is ample parking here underneath the Route 50 bridge, located right next to the trail.
Related Links
---
Happy Trails Bicycle Rentals
Spend your next free day or afternoon cruising Kent Island's beautiful Cross Island Trail on one of their comfortable retro-cruisers or tandems. Helmet and Trail map are provided as well as other points of interest on the Island.
Rates: $6 per hour /$30 per day
Tandem bike: $8 per hour/$40 per day.
Hours: Mon - Sat 10am to 6pm - *Sunday Rentals by Advanced Reservations
Location:
Happy Trails Bicycle Repair
111 Cockey Lane
Suite 1
Stevensville, MD 21666
Phone (410) 643-0670
Website: http://queenannes.com/store/happytrails.htm
Directions, from Rt.50 West. Take Rt. 8 north (last exit before Bay Bridge) turn right at first light into Historic Stevensville, take 1st left on to Old Love Point Rd. go to stop sign, take a left to Cockey Lane. They're on the left in the grey building with purple trim.
---
| | | |
| --- | --- | --- |
| | | Horsehead Wetlands Center is a 310-acre natural area and educational center providing year-round opportunities to observe and enjoy a variety of wildlife. The trails include concealed blinds, towers, and a boardwalk bringing visitors face-to-face with the wetlands and their wildlife. The Center sponsors a number of classes in ecology and environmental issues for school groups and other organizations. |
Features
• Six waterfowl ponds with more than 20 species of captive waterfowl.
• Vast tidal marshes and wetland plants

Recreation
• Walking trails
• Wildlife drive
• Visitors center

Wildlife Viewing
• Flocks of geese
• Shorebirds
• Eagles
The Horsehead Wetlands Center, a 310-acre peninsula in Grasonville with views of Marsh Creek and Prospect Bay, has six waterfowl ponds with more than 20 species of captive waterfowl -- plus their wild cohorts, attracted by these "live decoys" and their rich habitat. Five of the ponds represent different wetland habitats of North America: woodland, meadow, Chesapeake, Alaskan, prairie pothole. Live waterfowl from across the world, including Australia, Asia, and Europe, are also on exhibit, and you can also visit an enclosed aviary with songbirds and tree ducks from the Chesapeake region. The perfect place for a "family day" adventure or wildlife photography, the Center includes a visitor center and gift shop, a butterfly and hummingbird garden, seasonal environmental education programs, picnic areas, and two miles of trails including a salt marsh boardwalk and blinds and towers for wildlife observation.
The Center is home to the Wildfowl Trust of North American (WTNA), founded in 1979 by William J. L. Sladen, a world-renowned waterfowl biologist, as a research program. After buying a farm in 1981 as a base for its programs, WTNA worked to create programs and exhibits for the public modeled on a wildfowl trust based in England. The Trust has been open to visitors since 1985.
Wildlife
The upland, wetland, and aquatic habitats here include wintering grounds for migratory waterfowl and nesting areas for bird species of special concern in Maryland, some of which are bred for release in the wild. Besides the 20 captive species, you might see many of the 210 species of wild birds known to use the Center's lands for at least part of the year. These include bald ealges; 28 species of waterfowl; 11 species of wading birds (including nesting Least Bittern); bobwhite, Virginia rail, and woodcock; five species of owl; and many songbirds, including bluebirds, cuckoos, orioles, blue grosbeak, and warblers.

Look for tundra swans, loons, wading birds, and terns as you walk across the salt marsh boardwalk to the beach on Eastern Bay and Kent Narrows and climb a 15-foot observation tower there. Or, for another way to see the wildlife, rent a canoe and follow the Marshy Creek canoe trail. In addition to birds, you might also see amphibians or reptiles, or mammals such as red fox, gray squirrel, white-tailed deer, muskrat, cottontail rabbit. If you're very lucky, you might even spot the occasional river otter visiting the marsh.

Seasonal Sightings

From November to February, you are most likely to see migrating waterfowl, deer, red fox, bald eagles and winter songbirds enjoying the peninsula. From March to May, look for spring wildflowers, nesting waterfowl, songbirds, and osprey. Nestlings are hatched at the Center from May to July. Hummingbirds, butterflies, ducks, and turtles are abundant in the summer months. In the last days of summer you can see ducks on eclipse (non breeding) plumage, herons, egrets, shorebirds, and wetland wild flowers.

Educational Activities

The Center conducts programs for children and adults of all ages and any group size. Programs for the youngsters in the family include: "Skin, Scales, and Shells," "Beaks," "Bugs, Bugs, Bugs," "Ducks and Drakes," and "Feathered Friends." Programs for older participants include: "Wild about Wildlife," "Getting Your Hands Wet," "Wetland Naturalist," "Tramping through the Taxa," and "Junior Birding." You might also find yourself enjoying art classes, waterside concerts, and hands-on discovery programs. Any program or exhibit can be tailored for special interests and needs, and several of the Center's programs can be taken "on the road" to school groups.

Location:
Horsehead Wetlands Center
600 Discovery Lane
Grasonville, MD 21638
Phone (410) 827-6694
Phone (410) 827-5996 - Visitor Center

Directions:


Take U.S. Route 50 over the Bay Bridge. Seven miles from the bridge, take Exit 43B and follow signs. The Center is open every day except Thanksgiving, Christmas Eve and Christmas Day, and New Year's Day. Admission is charged.
---
Wildlife viewing and hiking are the most popular activities on the approximately six miles of trails. The most popular trails are the School House Woods Nature Trail, the Wye Island Holly Tree Trail, and the Ferry Landing Trail. The topography of the island is relatively flat making access to the trail system very easy for all users, from the novice to the advanced hiker. Visitors can see a variety of birds and wildlife including ducks, geese, wading birds, Bald Eagles, the endangered Delmarva Fox Squirrel, whitetail deer, and many other species. Horseback riding and bicycling are also popular, but visitors are encouraged to use an environmentally friendly approach to these activities. Horses and bicycles may be off limits in some areas during specific times of the year. Please call ahead to confirm access.
Location:
Wye Island Natural Resources Management Area
632 Wye Island Road
Queenstown, MD 21658
Phone (410) 827-7577
---
Horseback Riding
We offer horseback riding at its finest. The farm is on 70 acres of waterfront property with trails for riding.
Rates: 1 Hour guided trail ride $40.00/per person
*Call for Reservation
Location:
Country Comfort Farm
23720 St.Michael's Rd.
St.Micheals, MD 21663
Phone (410) 745-3160
Website http://www.countrycomfortfarm.com/
---
Executive 18 Holes! The ideal course for the weekend golfer who will enjoy the fun of playing or the more skilled competitor who will be challenged by the strategically designed pin placements on the professionally manicures fairways and greens.
Location:
Blue Heron Golf Course
101 Queen Colony High Rd.
Stevensville, MD 21666
Phone (410) 643-5721
---
Sweeping views of the Chester River grace the greens at this nationally acclaimed 36 hole championship course. Immaculately manicured bentgrass tees, greens and fairways perfectly suited for the superb golfing experience you expect. Rated best public course in state of Maryland by "Golf digest" 1997.
Location:
Queenstown Harbor Golf
310 Links Lane
Queenstown, MD 21658
Phone (800) 827-5257
Website http://www.mdgolf.com/queenstown.htm
---
Hunters Oak Golf Club

A par 72, true British-style, championship golf course is the cornerstone of the Hunters Oak experience. Playing 7,072 yards from the championship tees, the course - designed in the spirit of the ancient courses of Old Britain, artfully entwined throughout the beauty of Amberly Estate.

Our British Links course is planted with the highest quality bentgrass, which are meticulously maintained to provide conditions reminiscent of the ancient game. Featuring such holes as a par 4 "Wee Boggle" and par 3 "Big Ben," and with a meandering burn appropriately dubbed "St. Andrews Way," golfers can easily imagine that they are playing "across the pond." Hunters Oak features pot bunkers, rolling greens and significant mounding throughout, which are truly characteristic to the British countryside. When teeing off at Hunters Oak, prepare yourself for tournament-quality putting surfaces. Plus, the most challenging finishing holes in the Mid-Atlantic region can be found on our grounds, so be certain to take your complimentary yardage guide, a necessary companion on this magnificent course.

PGA Professionals are available for quality golf instruction, and our practice facility provides natural turf tees for practice, lessons and warm-up. The fully-stocked professional golf shop offers the finest in name brand golf equipment, apparel and accessories.

Location:
Hunters Oak Golf Club
500 Amberly Farm Lane
Queenstown, MD 21658
Phone (800) 827-0800
Website http://www.huntersoak.com/course.html
---
Hunting

Come experience the outdoor adventure of a lifetime with Tom Dodd.


Being able to hunt on privately owned 750 acres of Wye River waterfront farm and four ponds sets us apart from the rest. Food, water, habitat and proper hunting practices combine to act as a huge magnet in attracting enormous flocks of ducks and geese year after year.


Location:
Tom Dodd's Hunting Service
620 Tom Dodd Farm Lane
Queenstown, MD 21658
Phone (410) 758-2534
---
Hunting
This facility provides guided license release game hunting of mallard ducks, pheasants, chukars and quail. The preserve is located on 1,000 acres of scenic unspoiled farmland that is only 20 minutes from the Bay Bridge.
(6 month season / October 1 - March 31)
Just for Fun - $275.00
(2 - 4 gunners)
Your choice of 16 pheasants or 24 chukars or 40 quail or 16 mallard ducks or mix bag
Hunters Delight - $460.00
(2 - 4 gunners)
Your choice of 36 pheasants or 50 chukars or 100 quail or 33 mallard ducks or mix bag
Location:
Native Shore Hunting Preserve, Inc.
621 Grange Hall Rd.
Centreville, MD 21617
Keith Leaverton
Phone (410) 758-2428
---
Goose & Duck Hunting
The eastern shore of Maryland including Kent, Queen Anne's and Dorchester counties provide a hunting experience not found in most regions. The winter home for approximately 600,000 geese.
In addition to our 3,000 acres of hunting lands, we leave over $5,000 worth of standing corn on 50 acres for geese. We use full body geese decoys when hunting fields and floater decoys for geese and ducks when hunting over creeks, rivers and ponds. All pits and blinds are well constructed for your safety and comfort. Controlled hunts and limited pressure to insure you a better hunt.
Hedgerow blinds, field pits, water blinds, decoys, boats, experienced guides, hunting dogs, acres of open fields, beautiful creek and river sites, what more could you want.
1-2 Hunters - $150.00/per Hunter
3 or more Hunters - $125.00/per Hunter

Phone (410) 708-7133
Website http://www.winterfarmshunting.com/information.htm
---
Kayaking / Sailing

Adventure Crafters is a unique outfitter located on the Chesapeake's Eastern Shore in historic Queenstown, Maryland. We are a full service kayaking and sailing company providing kayak tours and lessons as well as daily sailing charters. We have trips designed for both beginners and experienced paddlers. Our trips originate from our private dock and kayak boat house on Little Queenstown Creek which is adjacent to the Chester River and across from the Eastern Neck Wildlife Refuge.
We offer exhilarating adventure coupled with just the right amount of luxury to make each Adventure Crafters' experience fun, educational, and personally uplifting. Let go of your daily concerns... rejuvenate your spirit... have an adventure!
Location:
Adventure Crafters
7109 Main St
Queenstown, MD 21658
Phone (888) 529-2563
Website http://www.adventurecrafters.com
---
Facials & Body Treatments
Body Treatments are nourishing and relaxing treatments derived from nature to help pamper and revitalize the skin. Treat it well...and your entire body will reap the benefits.
Experience a luxurious facial. Brenda's Facial leaves your skin feeling renewed, revitalized and refreshed. Beginning with an accurate analysis of your current skin condition, followed by cleansing, exfoliation, extractions, facial massage, masque, heated hand and foot treatment. Indulge!
Body Massage
Massage is an integral part of stress management. Clinical tests show that during massage, endorphins are released into the body. This rush of endorphins strengthens the lymph and immune system and normalizes blood pressure. Some of the many benefits of massage are to improve muscle tone, alleviate pain in the joints and muscles, and to relax tight muscles caused by mental, emotional and physical stress. Massage calms and soothes the emotions and promotes a feeling of inner peace.
Location:
Swan Cove Day Spa & Salon
102 E Main St Suite 104
Stevensville, MD 216666
Phone (410) 604-1500
Website: http://www.swancovespa.com
---
Free Queen Anne's County Visitor's Guide
New! - Discover Queen Anne's County Web Site
---
Fisherman's Village
Fisherman's Inn - (410)827-8807
Fisherman's Crab Deck - (410)827-6666
Fisherman's Seafood Market - (410)827-7323
3116 Main Street
Grasonville, MD 21638
Kent Narrows
WEBSITE